Today here at Hippie Stoners, we're tackling the big one Cannabis Decarboxylation (pronounced: DEE-CARB-OX-OH-LAY-SHUN).
Is decarboxylation always necessary for edibles? ? Yes, absolutely! If you are baking your edibles using either flower or concentrate you have infused into oil or butter, for example, you will certainly feel some effects from the THC that IS activated during the baking process
Cannabis Decarboxylation: What Is It and Why Is It Important?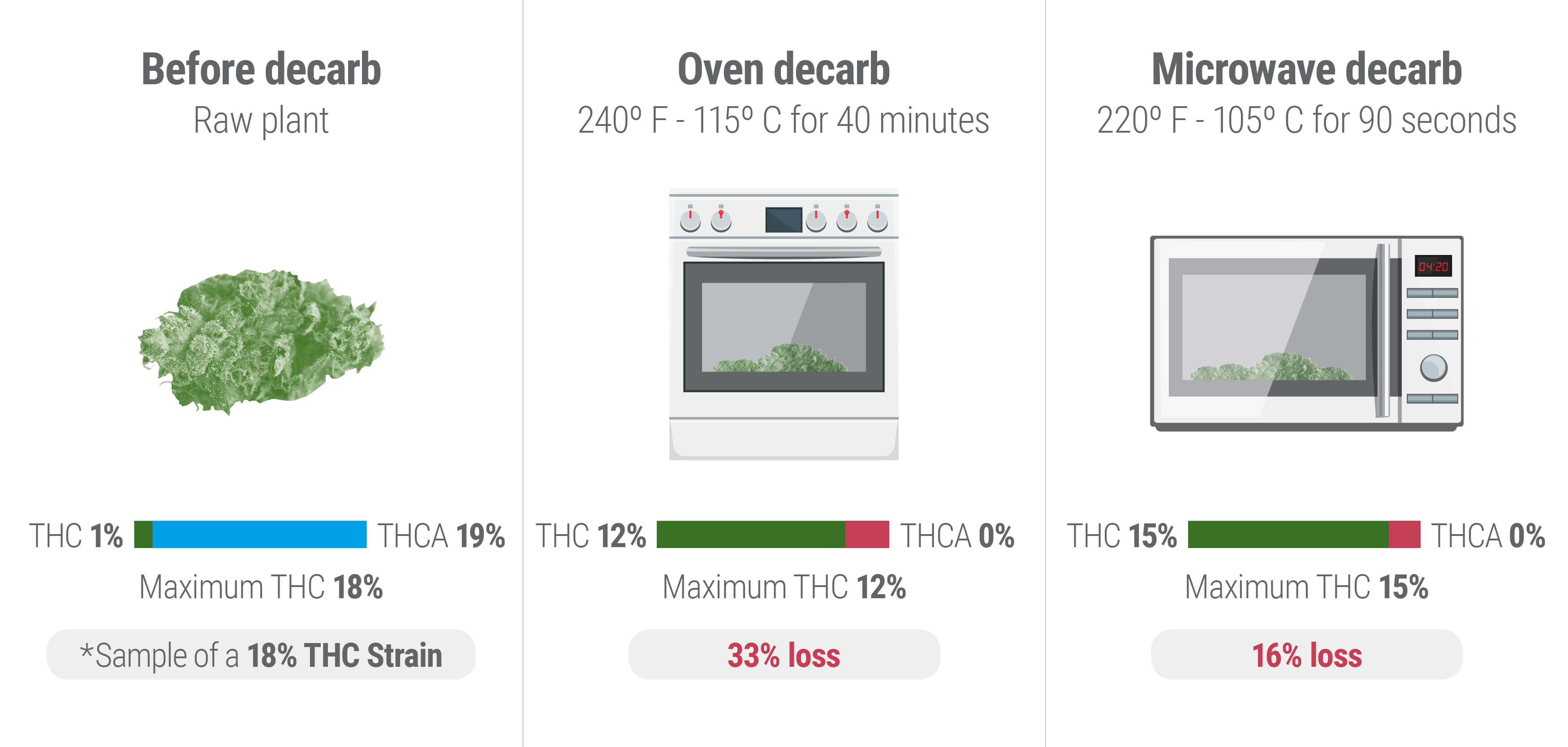 If you're new to cooking with cannabis, the terms can be a little intimidating. Cannabidiol, Tetrahydracannabidiol, "still federally illegal"… you know… the kind of terms that make you a little confused.
Cannabis decarboxylation is a crucial component of activating the psychoactive compounds found in cannabis and hemp plants. Decarboxylation happens organically for smokable plant material, as the heat from the flame does the work. For consumables, tinctures and salves, however, it is a more careful process that occurs earlier in production.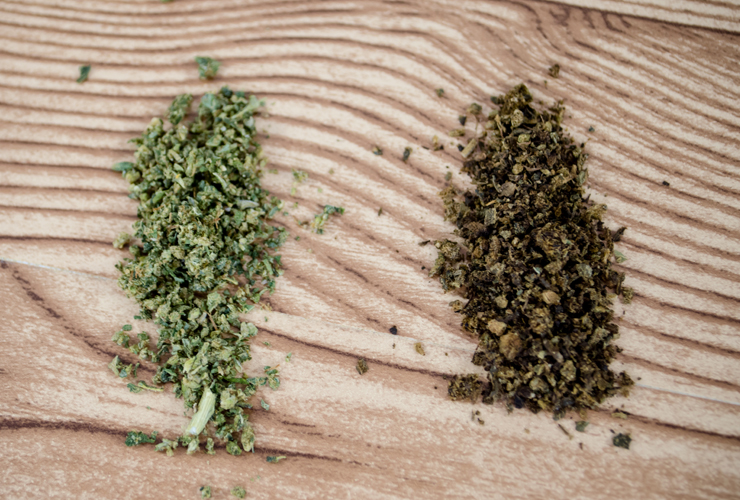 Decarboxylation refers to the process of heating cannabis and hemp to activate the cannabinoids within its buds, trim, leaves, or kief. Decarboxylating, or "decarbing," cannabis, in essence, makes consumers experience the plant's unique and intoxicating effects by using its active components.
Primarily, decarbing methods target cannabinoid acids, also known as inactive cannabinoids, found in the plant's trichomes. Trichomes are mainly found on cannabis flowers, but can also be found in smaller quantities in leaves and stems.
When cannabis matter undergoes the heating process, the cannabinoid acids' molecular structure changes. When decarboxylated, the acids lose one carboxyl group (-COOH) as carbon dioxide while retaining one hydrogen atom.
Cannabinoid acids have 22 carbon atoms, 30 hydrogen atoms, and four oxygen atoms. The carboxyl group lost consists of one carbon atom and two oxygen atoms (CO2). When this carboxyl group is removed, the molecular mass of THCA, for instance, decreases by about 12 percent turning into the active THC compound.
When activated, cannabinoids interact with the endocannabinoid system (ECS), a network of cannabinoid receptors found throughout the body including the central and peripheral nervous system. A handful of major and minor cannabinoids produce varying effects in the body ranging from euphoria to relaxation.
Why is Cannabis Decarboxylation Important?
Decarboxylation is one of the most important processes when making edibles, tinctures, and other consumable goods, because there is no heat added during consumption of these products. Decarbing activates the plant's most essential cannabinoids: tetrahydrocannabinol (THC) and cannabidiol (CBD). For smokeables, decarboxylation prior to consumption is not necessary, as it happens when the flame or electric heating element hits the plant.
Freshly harvested and un-decarboxylated cannabis flower contains an excess of cannabinoid acids that have little to no psychoactive benefit until processors decarboxylate them. Decarboxylating cannabis essentially flips a switch that converts cannabinoid acids into THC and CBD.
The cannabis decarboxylation reaction is important because the heating process converts tetrahydrocannabinolic acid (THCA), the non-psychoactive cannabinoid acid, into the highly intoxicating THC compound that produces euphoria. Decarbing cannabis also converts cannabidiolic acid (CBDA) into CBD which is tamer when compared to the effects of THC.
Without the important conversion using heat, THCA and CBDA are not able to pass the blood-brain barrier to activate cannabinoid receptors. In particular, THCA is not able to target the CB1 receptor that causes psychoactive effects.
THC and CBD function as partial agonists or agonists of the endocannabinoid system (ECS). Consuming decarboxylated cannabis can have effects on multiple body functions determined by the ECS such as sleep, appetite, pain, inflammation, immune response, and mood. Decarbed THC and CBD can then be infused when cooking a small or large volume of cannabis infused products.
Medical patients treating their symptoms with oral or topical medical marijuana must ensure their cannabis is decarboxylated. Commercial manufacturers take care of the extraction and decarboxylation process to ensure the infused product is ready to consume after purchase.
Cannabs decarbing is also essential for its ability to introduce active cannabis compounds into a wide array of products to suit individual delivery preferences. Without decarboxylation, consumers wouldn't have the choice of a variety of edible, sublingual, and topical solutions such as gummies, brownies, tinctures, syringes, suppositories, capsules, and more.
Decarboxylation Temperatures For Cannabis
Temperature +/-5F
Heating Mode
Plant Material Time
High Thc
Plant Material Time
High Cbd
Plant Material Time High Thc
Plant Material Time High Cbd
Plant Material Time

300 F
Oven
1 0-18 Min
15-25 Min
5-10 Min
1 0-15 Min
200 F
Hot Oil Bath
Until Bubbles Taper Off
242F
Oven
50-60 Min
50-60 Min
212F
Boling Water Bath
9 0-120 Min
2-4 Hours
9 0-120 Min
2-4 Hours
What Is the Process of Decarboxylation?
Decarboxylation occurs over a period of time with the application of heat, which means decarboxylation can occur at varying rates depending on time and temperatures. The trick is to decarboxylate cannabis at the ideal temperature to avoid cannabinoid degradation or combustion.
Each cannabinoid and terpene has a different decarboxylation temperature. For instance, THCA requires temperatures to be about 220ºF for about 30 to 45 minutes before the compounds begin decarboxylating. Full decarboxylation time can vary depending on the material and amount needed to decarb.
Ultimately, the ideal decarboxylation process uses the least heat possible to retain more of the plant's therapeutic cannabinoid and terpene compounds. Terpenes, especially, can be vulnerable to evaporating off when exposed to high heat.
During the decarboxylation process, not all acidic cannabinoids will be converted into THC or CBD. A trace amount of raw cannabinoids may be left after a comprehensive decarb session. Products may feature small amounts of acid compounds such as CBDA on lab tests.
To Decarb Or Not To Decarb?
Decarboxylation is a crucial step in the consumption process, but not all cannabis will or should be decarbed. Much of today's cannabinoid research has focused on the two main cannabinoids: THC and CBD. More recently, however, researchers have set their sights on the potential therapeutic application of non-psychoactive cannabinoid acids such as THCA and CBDA.
In the wild, THCA protects cannabis leaves from damaging UV-B light radiation. Some research also suggests THCA induces cell death in cannabis leaves. In humans, un-decarboxylated THCA can have numerous health benefits:
Anti-inflammatory
Neuroprotective
Anti-nausea
Anti-convulsant
Bronchodilator
Metabolic regulator
Stress Reducing
CBDA, the non-decarboxylated precursor to the CBD compound, is found in trace amounts in the cannabis plant. Like THCA, not as much research has been performed on CBDA compared to CBD and THC research.
New evidence, however, suggests that CBDA can have plenty of health benefits when the plant is kept in its raw form:
Anti-anxiety
Anti-inflammatory
Painkilling
Anti-nausea
Anti-convulsant
One of the main selling points of THCA and CBDA is their non-psychotropic nature. That means users do not experience a "high." For example, THCA's larger molecular size compared to THC does not allow it to pass through the blood-brain barrier and attach to cannabinoid receptors in the brain.
As more research stacks up in favor of keeping THCA and CBDA in their raw form, more manufacturers and consumers will be turning to these isolates found in a number of forms including whole-flower, tinctures, transdermal patches, and crystalline concentrates.
Quick & Easy Cannabis Decarboxylation (video)
ANSWERING YOUR BIGGEST DECARBING QUESTIONS
HERE'S WHAT YOU NEED TO KNOW ABOUT THE SMELL OF DECARBOXYLATION
If you are decarbing your weed in the oven here's what you can expect:
Depending on the size of your home, you will smell marijuana when you walk in the door. It will not be so overpowering that your eyes water, but you will smell it.
Within just a few minutes, you will no longer smell it (as your nose grows accustomed to the smell.)
You will most likely not smell marijuana outside of your house. (Especially if cooking with your windows closed.)
Within 30 minutes of finishing the decarb process, the smell will most likely be completely gone from the house. If any scent still lingers, light some candles or whip up some sauteed onions and peppers (or something else that has a strong smell) to cover the odor.
STILL WORRIED ABOUT THE SMELL DURING THE DECARB PROCESS?
If you're still worried about the smell, here are a few other things you can try:
Use a friend's house. Get their permission first, but if you live in an apartment or have a shared wall in your home, you may feel more comfortable decarbing for the first time in a standalone house without any close neighbors. (Although we don't think you need to worry.)
Try a toaster oven. This won't make the smell any less strong, but it does give you the option of cooking somewhere other than your kitchen – like your garage, basement or even in the yard.
Q: WHAT TYPES OF MARIJUANA NEED TO BE DECARBOXYLATED?
A: Pretty much all marijuana will benefit from being decarbed or "activated." 
This means that not just flowers/buds and trim but kief, hash and hash oils as well.
Q: I NEED TO DECARB MY WEED, BUT I'M AFRAID OF THE SMELL. HOW BAD IS THIS GOING TO SMELL?
A: Just how bad is decarbing your weed going to smell? The answer? Not as bad as you might think. The first time we decarbed weed in the oven, we were very pleasantly surprised at how the process went and what it smelled like.
Q: I'M GOING TO USE THIS CANNABIS TO MAKE CANNABUTTER AND OTHER EDIBLES THAT I'M GOING TO BE BAKING/HEATING. DO I STILL NEED TO DECARB FIRST?
A: Great question – and YES! For maximum potency of your edibles, you want to activate (or decarb) your cannabis first. This is the case even when you're making slow-cooking infusions like canna butter and canna oil.
Q: WHAT HAPPENS IF I DON'T DECARBOXYLATE MY CANNABIS?
A: Well, you'll still get some medicinal benefits from the cannabis, but you won't get as high.
Q: CAN I DECARB MY WEED IN A TOASTER OVEN?
A: Sure thing! In fact, some people that are nervous about the smell decarb their cannabis in a toaster oven in their garage, basement or even outside. Just be sure that your toaster oven is at an even temperature for 30 minutes before starting the baking process.
Q: CAN I DECARB MY WEED USING A FOOD DEHYDRATOR?
A: Opinions are mixed on this decarbing process, and it's not one that we've attempted ourselves. Our preference is for higher heat for a shorter amount of time.
If you're dead set on using a food dehydrator, be sure to further research the process. From what we've heard, you need to plan on anywhere from 8 – 12 hours for your cannabis to be fully activated.
Q: CAN I DECARB MY WEED IN A JAR